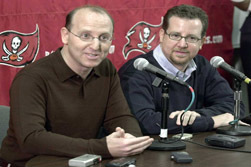 Help us with a Sport and Betting Survey and win a £50 Free Bet! Click here to take part now.
The Glazer family have dismissed suggestions that they are considering selling Manchester United.
It is the second time in a fortnight that stories have surfaced claiming the American owners are ready to offload the Old Trafford club after realising the profits to be made fall short of their initial expectations.
After completing a £800m buy-out two years ago, Malcolm Glazer has already re-financed United's massive debts once and is working on another re-structuring, which would reduce annual interest payments from a crippling £65million a year.
Yet the Glazer family have issued a statement denying they want to sell the new Premier League champions and stressing their long-term commitment to the club.
With United set to benefit from an increased TV deal and with revenue from sponsorship and season-ticket sales about to rise significantly, the Glazers remain confident they will recoup their investment.
"The Glazer family have a long-term commitment to Manchester United and that is not going to change," a spokesman for the family said.
"Quite simply, they are not interested in selling the club. Why would they?
"They are determined to make United more successful, both on and off the pitch."
The Glazers' backing of Sir Alex Ferguson in the transfer market is likely to be tested this summer as the United manager has identified a number of targets whose signing he believes are crucial if United are to build on their Premiership success.
The capture of £17m midfielder Owen Hargreaves from Bayern Munich is set to be confirmed soon, possibly as early as today, as the player was in Manchester on Thursday to discuss personal terms.
Help us with a Sport and Betting Survey and win a £50 Free Bet! Click here to take part now.