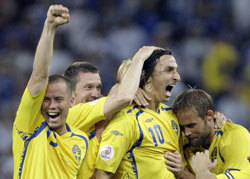 See the ever-changing outright betting as we sift through the opening Group games!
Greece's hopes of retaining the title they won four years in Portugal, suffered a huge setback when they went down 2-0 to Sweden in their opening game of Euro 2008.
Second half goals from Zlatan Ibrahimovic and Petter Hansson gave the Swedes a hugely deserved win over a disappointing Greek side.
Lars Lagerback's side began the game brightly with the veteran Larsson belying his 36 years with an energetic, non-stop display of running. Although clear cut chances were at a premium, there was a zip to the Swedes display that augured well.
In contrast, Greece sorely tested the patience of the crowd by repeatedly stroking the ball across their trio of central defenders without showing any real desire to go forward. The holders lack of ambition was a feature of their success four years ago, but their efforts in Salzburg were greeted by a chorus of boos and whistles from those present.
On a rare foray into the Swedish half Basinas fired a low shot from 25 yards, but Isaksson had time to adjust and parry the ball wide. From the resulting corner, Karagounis fizzed in a near-post cross, a tactic that was so effective four years ago, but Sweden, alert to the danger, were able to clear.
At the other end Ibrahimovic almost broke the deadlock when he rose to head Larsson's deft chip, but his header sailed inches over the bar. It was the best chance of a disappointing opening half, and as the interval arrived it was clear that something sublime or ridiculous would be required to end the stalemate.
Early in the second half Hansson almost obliged with the ridiculous when he headed an innocuous cross beyond the outstretched hand of his own 'keeper Andreas Isaksson, but fortunately for the defender the ball sailed inches past the post.
On cue, Ibrahimovic, possibly the one player on show capable of delivering the unexpected, conjured up a sublime goal to put Sweden ahead. Latching on to a Henrik Larsson flick on the right-hand edge of the Greece penalty area Ibrahimovic lashed home an unstoppable half-volley past Antonis Nikopolidis' despairing dive and into the far top corner.
Greek coach Otto Rehhagel responded by withdrawing one of his centre-backs, Traianos Dellas, and replacing him with the winger Yannis Amanatidis. However, the space created by Dellas' depature was quickly filled by Freddie Ljungberg who collected a Larsson pass on the egde of the Greek penalty only to see his effort blocked by Nikopolidis. The ball was turned back into the Greek six-yard box and was bundled over the line by Hansson to give Sweden an unassailable 2-0 lead.
Two-nil, and game over for the defending champions. They can few complaints; the paucity of ambition they showed merited nothing more and with games to follow against Spain and Russia, their chances of reaching the knockout stages look exceedingly slim.
Group D
Greece 0-2 Sweden
Scorers: Zlatan Ibrahimovic 67, Petter Hansson 72
Half-time: 0-0
Attendance: 31,063
Teams:
Greece: 1-Antonis Nikopolidis; 2-Giourkas Seitaridis; 16-Sotiris Kyrgiakos, 19-Paraskevas Antzas, 5-Traianos Dellas (20-Yannis Amanatidis 70), 15-Vassilis Torosidis; 6-Angelos Basinas, 21-Costas Katsouranis; 9-Angelos Haristeas, 10-Giorgios Karagounis; 17-Fanis Gekas (7-Giorgos Samaras 46)
Sweden: 1-Andreas Isaksson; 7-Niclas Alexandersson (5-Fredrik Stoor 74), 3-Olof Mellberg, 4-Petter Hansson, 2-Mikael Nilsson; 21-Christian Wilhelmsson (22-Markus Rosenberg 78), 8-Anders Svensson, 19-Daniel Andersson, 9-Fredrik Ljungberg; 10-Zlatan Ibrahimovic (11-Johan Elmander 71), 17-Henrik Larsson
Referee: Massimo Busacca (Switzerland)
See the ever-changing outright betting as we sift through the opening Group games!