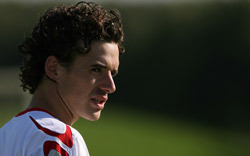 Man City v Man Utd: Tom 'The Power' Powell gives his top betting tips for the crucial FA Cup semi-final…
The Manchester United career of midfielder Owen Hargreaves could be over after four-injury plagued years.
United manager Alex Ferguson admitted that the former Bayern Munich player's "contract is up at the end of the season but I don't know what is going to happen."
Hargreaves played only seconds against Sunderland last season, and limped off five minutes into a surprise comeback against Wolverhampton Wanderers in November with a torn hamstring.
Now, the 30-year-old Hargreaves has a shoulder injury which Ferguson does not believe he will recover from.
Ferguson says Hargreaves "has just carried bad luck all the time he has been here. I am pretty sure he won't be playing this season."
Man City v Man Utd: Tom 'The Power' Powell gives his top betting tips for the crucial FA Cup semi-final…