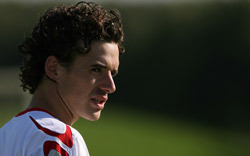 England midfielder Owen Hargreaves has completed his £17m move from Bayern Munich to Manchester United.
The 26-year-old has signed a four-year deal with United.
"It has been a long time coming – it was probably the worst-kept secret in football," he told the club website.
"I think it's great to finally reach a positive conclusion. Especially after all the time and energy that has been put in from everyone involved."
Hargreaves thanked Bayern for giving him the opportunity to play in Europe.
"I would never have thought that I would move to Germany," he said.
"I am very happy that Bayern gave me such an opportunity. I wish them all the best. The last 10 years were a dream."
The England international said he was hoping his move to Old Trafford would help him achieve his ambition of winning the Champions League.
"I set lots of targets over the last decade and I have also fulfilled them. I expect that to continue," he added.
"A new era is starting for me now and I hope to achieve even more. I don't have any concrete aims but you have got to win everything at United."