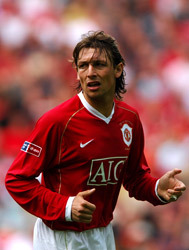 Win FREE Bets in our Premiership Quiz every day until the season starts! Click here for more info!
Gabriel Heinze has confirmed he is still hoping to leave Manchester United.
The Argentinian defender met with manager Sir Alex Ferguson on Monday after returning for pre-season training with the Premier League champions.
Heinze is wanted by rivals Liverpool, but United have no intention of letting him join one of their title rivals.
Speaking after meeting with Ferguson, Heinze said: "I've spoken with the coach and I have insisted that my wish is to leave the club if a big offer appears on the table.
"Today the only such offer is from Liverpool and it is this that is causing the problem. Earlier in the summer I received a promise from United that I could leave if the deal was good for both parties and at the moment there is an offer from Liverpool.
"The coach is serious about this and I understand his view. But I am serious, too. My lawyers are studying the situation and I'm going to wait for a few days now to get a full report from them."
Heinze admits he is unlikely to play for United again.
"All I want now is a swift solution to this saga," Heinze told the Daily Mail.
"I've fulfilled my duties by returning for training and I will now carry on behaving like a professional. I will keep on coming to training and will see what happens. I have a muscle injury in my leg but it is only minor and will not keep me out for long.
"People keep saying that there's an offer for me from Juventus but I know nothing about it. Liverpool is the only offer so far.
"I don't want to spend time at the club just waiting and not playing as I don't think that is in the best interests of the club or myself."
United chief executive David Gill reiterated the club's stance, insisting they would not stop him leaving if a foreign club came in for him.
"If there's interest from overseas and the valuation's right, I could see him moving," said Gill.
Win FREE Bets in our Premiership Quiz every day until the season starts! Click here for more info!