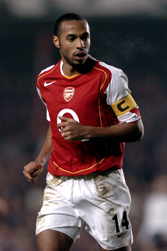 Thierry Henry has revealed his distress at being forced to miss Saturday's FA Cup final against Manchester United.
The Arsenal striker has been ruled out due to a recurrence of an Achilles injury.
But he aggravated the complaint during his appearance in the 7-0 thrashing of Everton and does not believe it is worth the risk of aggravating the injury by playing on Saturday.
"This is the biggest match I've missed in my career," Henry told The Sun. "It's a major disappointment.
"But the team can still win.
"I've had a problem with my Achilles since the start of the season. But it's not just one, both of them are causing me pain and I am just not fit to play. I need a rest.
"It is a big disappointment as it will be a great game against Manchester United.
"But I have to put the team ahead of myself.
"I have played a lot this season and I'd like to think I've given my all. I just can't go on.
"It is the end of the season and I have to do this right now.
"It is a problem for me but, hopefully, I will be fine for the start of next season. I am sure I will be fine."