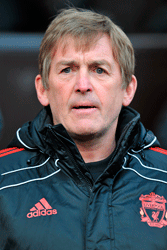 Simon Hopper, Andy Newton and Tom Powell talk to Paul Jacobs ahead of this weekend's Premier League fixtures
John W Henry has hinted Liverpool will hand Kenny Dalglish an extended deal and suggested the club would redevelop Anfield rather than build a new ground.
Dalglish was named Reds manager for the remainder of the season following Roy Hodgson's departure last month, and despite a slow start to his tenure, form has improved with three wins on the trot.
Henry admits the mood at the club has improved since the appointment of Dalglish.
"It's still early, but in retrospect you could not have made, in our case it was very fortunate for us, but we could not have made a better choice," he told Fox Soccer Channel.
"I know he, for a long time now, has wanted to be in this position, so it's a great thing for the club, for Kenny and for us."
Henry has also suggested the club could opt to stay at Anfield and redevelop the venue rather than move to a new home.
"The Kop is unrivalled," he added. "The atmosphere, I was really surprised because we've heard so much about needing a new stadium.
"We were surprised at how beautiful Anfield was both viewing it as an empty stadium and then with the first game. It would be hard to replicate that feeling anywhere else."
This week saw the sale of star striker Fernando Torres to rivals Chelsea and Henry insists there was little point in retaining a player who wanted to join another club.
Torres is line to make an immediate appearance against Liverpool when he makes his Chelsea debut at Stamford Bridge on Sunday.
"One of things that we talked about from the very beginning was how important it was that everyone was on the same page. No player is bigger than the club," Henry said.
"We expect players to want to be there. If they don't want to be part of Liverpool football club then we should do everything we can to facilitate them going elsewhere."
Simon Hopper, Andy Newton and Tom Powell talk to Paul Jacobs ahead of this weekend's Premier League fixtures
Take advantage of the sales by saving up to 36% on a subscription to World Soccer