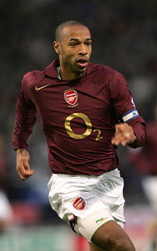 Arsenal chairman Peter Hill-Wood claims Thierry Henry has been made "an absolutely fantastic offer" to stay at the club.
The 28-year-old's current contract is due to expire in 2007, and he has started talks over a new deal amid reports that Barcelona are interested in prising him away from Arsenal.
"I'm not going to say what the deal is, but it made me shudder. It's a lot of money," Hill-Wood told the Daily Star.
"It's for five years. Arsene Wenger thinks he's physically capable of playing for another five years."
Henry has confirmed he would like to stay with the Gunners, although he has yet to sign a new deal.
"We've made him an offer which is probably as good an offer as anybody in this country – maybe other than Chelsea – would make," added Hill-Wood.
Arsenal vice-chairman David Dein said he hoped the club's recent forays into the transfer market would persuade Henry of the club's ambition.
"Henry's very important to us and we're advanced in trying to renegotiate his deal," Dein told BBC Radio Five Live.
"We hope he will stay with the club. We are building for the future."
The Gunners have signed Emmanuel Adebayor, Vasiriki Abou Diaby and teenage wonderkid Theo Walcott, during January's transfer window.
Henry is the club's record goalscorer in all competitions and he is currentl level with Cliff Bastin's club record of 150 League goals.
Subscribe to World Soccer – The essential football magazine