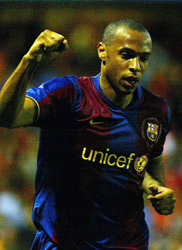 Thierry Henry, making his first appearance for Barcelona, opened his account for his new club in their 1-0 win over Dundee United.
The former Arsenal striker, on as a second-half substitute, stepped up to take a penalty on 90 minutes, and although his spot-kick was saved, Henry netted the rebound.
Henry came on for Samuel Eto'o and came close to scoring within seconds of making his entrance, but his shot was just off target.
Afterwards, Barcelona coach Frank Rijkaard admitted the Scottish outfit had deserved something from the game.
"It was a shame the public didn't see more goals and Dundee United deserved a goal for the way they played," he said.
"It seemed more than a friendly game, because there was lots of aggression and they gave us a very tough match."
Rijkaard said of Henry: "We have seen he is an intelligent player and we have seen some good passes.
"We have to take into account he has not played for a long time and it was his decision to go and play. He played well."
Barcelon's Ronaldinho praised the Dundee United fans for their support before and during Thursday friendly.
Ronaldinho said: "The supporters were great tonight and they made it a really special night for me.
"Dundee United were a very good team, a very strong team – and they worked hard for the whole game."