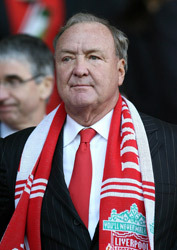 After dropping points on Monday night Chelsea can't afford any more slip-ups when they travel to Everton this Thursday in the Premier League – 20:00. Click here for the latest match odds!
Liverpool co-owner Tom Hicks slammed Rick Parry, describing the chief executive's reign at Anfield as "a disaster".
Hicks also warned his co-owner George Gillett that the stalemate over the club's future will continue until he agrees to sell his stake.
And the Texan claimed said it had been Gillett and not him who had opened negotiations with Jurgen Klinsmann in New York last year – a move which undermined Reds manager Rafael Benitez.
Hicks has demanded Parry's resignation and pledged to offer Benitez a one-year extension to his current deal.
Disaster
In a damning attack, Hicks blamed Parry for Liverpool's failure to compete with their Premier League rivals.
"Look at what's happened under Rick's leadership. It has been a disaster," Hicks told Sky Sports News.
"We have fallen so far behind the other leading clubs. We should have the stadium built three or four years ago. We have two or three major sponsors when we should have 12 or 15.
"We are not doing anything in Asia, the way that Manchester United and Barcelona are, and we have a tremendous number of fans in Asia.
"We have still got the top brand in the world of football but that's no good if you don't know how to commercialise it.
"Rick needs to resign from Liverpool FC. He has put his heart into it but it is time for a change. You have to be able to work with the manager and Rick has proved he can't do that.
"At the first meeting we had with Rafa he talked of the number of players he had missed out on because he (Parry) was too slow. Too many times nothing happens."
Extension
Regarding to his relationship with Benitez, Hicks revealed that he wanted the Spaniard in charge when the club moved into a new stadium.
"If I were to buy George out the first thing I would do is offer Rafa a one-year extension to make sure he is going to be here up to when we get the stadium," said Hicks.
"Hopefully we could have some success and then extend him again.
"I think we will continue to have success. I think Rafa has unique skills, he motivates the team and we have some great players who are learning how to play with each other."
Hicks and Gillett took over the club in February 2007 but Hicks admitted their relationship has broken down irrevocably.
"At this point it is unworkable," he stated.
"We started this as friends but 50-50 is a difficult business proposition because you cannot do anything without your partner's approval.
"If George doesn't sell – because I am not going to sell – I guess we stay in this position that we are in.
"I am planning to make him a very attractive offer. If I had a majority on it (ownership of Liverpool) I could put more capital in.
"My goal is take all the debt off the club except the working capital needed and get the permanent financing totally in place for the stadium.
"I want the finances of the club to be secure. I want to be the majority owner of a group that buys the club and I have got a 25-year track record of being a very successful investor around the world.
"The fans don't like the fact that we borrowed a lot of money to buy the club but I will fix that."
Hicks also ruled out any chance of Dubai International Capital (DIC) taking control at Anfield.
"I did talk to Dubai about being a 49 percent partner but it just didn't work out," he continued. "They didn't share the same vision I have and I didn't think they could become minority partners. I am not going to have any more 50-50 partners."
Klinsmann meeting
On the meeting in New York last year with Klinsmann, Hicks added: "George became good friends with him (Klinsmann) a year ago.
"I get this call from George out of the blue in which he says `have your people do their research on Klinsmann'. He and Rick set up the meeting in New York. I did go to the meeting along with my son Tom.
"Rick Parry had already met with Jurgen alone for a couple of hours when we arrived. We all then spoke to him for another four hours.
"Afterwards I told the truth to a reporter who asked the question and suddenly it is 'Tom Hicks tried to get Jurgen Klinsmann'.
"George initiated it but we all participated."
Hicks admitted he was frustrated with his unpopularity among Liverpool fans and admitted it had stopped him from bringing his whole family to Anfield to watch matches.
"My family loves Liverpool," he complained. "The sad thing is that right now we can't go there as a family until we get this thing sorted out."
After dropping points on Monday night Chelsea can't afford any more slip-ups when they travel to Everton this Thursday in the Premier League – 20:00. Click here for the latest match odds!