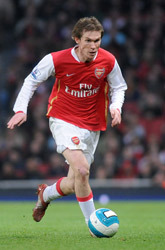 Euro 2008 Top Goalscorer. Click here for the latest odds!
Alexander Hleb has met representatives from Barcelona to discuss a possible move to Camp Nou.
"We have had talks with Barcelona but nothing has been signed," agent Hleb's agent Uli Ferber told BBC Sport.
The Arsenal midfielder, 27, will make a final decision on his future when he comes back from holiday next week.
The Belarus international had been linked with a move to Internazionale but the Serie A club's appointment of Jose Mourinho appears to ended that possibility.
"I'm sorry that we won't be able to take him to Italy, he liked Inter a lot but obviously Mourinho has made some different choices and has gone for some other names," said Hleb's representative Vincenzo Morabito.
Earlier in the season, it was reported that Hleb held covert talks with Inter ahead of Arsenal's Champions League game against rivals Milan at the San Siro.