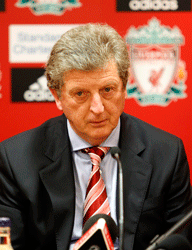 Liverpool manager Roy Hodgson believes he still has the backing of his players and the club's owners after the 2-1 victory over Bolton at Anfield.
Hodgson has come under pressure following a poor run of results and reports suggested he might be sacked if his side failed to beat Bolton.
"I know when players are behind their manager and their club and when they're not," he said.
"Anyone who seriously suggests they are not behind me after this is wrong."
"For 90 minutes I thought we were clearly the better team.
"We had to play well to give that performance and I am naive enough to believe that if you give the performances then often you do win.
"I am extra satisfied we got the winning goal but even at 1-1 I wouldn't have been in any way dejected because I think today we put Wednesday's game well and truly behind us.
"Even if you win it to a controversial goal I don't think we should be in any way apologising for it and anyone who begrudges us that victory after watching the game is a very churlish person."
It was Liverpool's seventh win from 19 Premier League matches this season and has possibly earned earned Hodgson some breathing space.
"My job is to try and produce good and winning performances from the team," said Hodgson. "It's not about me, it's about Liverpool Football Club and the players.
"Speculation rife all over, I don't think anybody is immune to it these days. The higher the level you work at, the more speculation there will be.
"I shall probably have to learn to accept I shall get a lot of brickbats. I take enough negativity from you guys [the media]. Today I am not interested in anything negative.
"Had we won on Wednesday you would now be asking me about the Champions League but because we didn't win on Wednesday I am asked about the negativity which, to be honest, is being created here in this room."
Hodgson revealed he spoke to Anfield owners John Henry and Tom Werner following the midweek defeat to Wolves defeat.
Asked whether he felt he had their support, he replied: "I guess so. They wished me good luck and sympathised with the frustration I must have been feeling."
Hodgson succeeded Rafael Benitez in July 2010, three months before Henry and Werner's New England Sports Ventures completed its takeover of the club.
The Liverpool fans turned on the manager during the Wolves loss, and he was forced to apologise for any offence caused by comments he made about the strength of their support for him after that match.
Cannot play media.You do not have the correct version of the flash player. Download the correct version
But after Saturday's win, Hodgson said he believed that a corner may have been turned.
"I said after seven games when we were in the bottom three that if we can finish after 19 games in the top half of the table then that will at least give us a platform," he added.
"That's where we are and what's more we've got two games in hand on most of the teams around us."