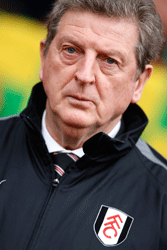 Gianfranco Zola has been SACKED as West Ham manager, but who will replace him? See the next West Ham manager betting here.
Fulham manager Roy Hodgson was quick to express pride in his players' performance after watching his side beaten in extra-time in the Europa League final.
Diego Forlan scored with just four minutes of extra-time remaining to win the final for Atletico, 2-1 in Hamburg.
Forlan had given Atletico a first-half lead only for Simon Davies to level for Fulham.
"Their two front players were very good, throughout the game and you have to give them credit but I thought we played well and gave them more than a good game," Hodgson said after the game.
"I thought we were good value and I thought for all the world it was heading for penalties, which of course is a lottery but we would have been quite happy to take that lottery.
"So at the moment the disappointment is conceding a goal so close to the end when I thought we looked so comfortable through the second half and most of extra time.
"I couldn't be more proud of the players for this season and this performance tonight, this performance tonight summed up what we are – all through the season they have been producing against the odds, pulling out performances nobody would expect – we go a goal down tonight and found the capacity to equalise and then almost take it to penalties.
"Of course you can't be happy after that sort of defeat even if it comes in extra-time but I don't have a word of criticism for the team, and the fans were magnificent as usual and I think all our fans realise we did as good a job as we could do, but just fate was against us lifting the trophy.
"I think we have every reason to be proud of this season and be proud tonight despite our disappointment."
Hodgson admitted that Uruguayan striker Forlan was the difference between the two sides.
"You take every defeat hard, we came here tonight wanting to win and I am sure everyone will have sympathy with us, they realise we were a match for our opponents, but it wasn't to be," he added.
"These are knock-out games, they are decided by moments and ours was decided by the predatory instincts and the finishing power of Diego Forlan.
"I thought we kept Forlan and Aguero quite quiet considering how good they are but we didn't keep them quiet for long enough."
Gianfranco Zola has been SACKED as West Ham manager, but who will replace him? See the next West Ham manager betting here.
Make sure you don't miss any of the last news and articles from World Soccer. Subscribe to World Soccer today and take advantage of our all 50th anniversary offer, saving up to 50%!