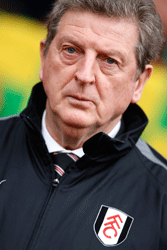 Fulham boss Roy Hodgson paid tribute to players after watching his side progress to the Europa League final with a 2-1 aggregate win over Hamburg.
"After going a goal down against the run of play I think we made a major piece of history here in a very special atmosphere," Hodgson said.
"I think lots of teams would have lost their discipline and shape, but we stayed strong."
Fulham will play Atletico Madrid in the club's first European final on 12 May.
Mladen Petric's blistering free kick had given Hamburg a half-time lead in the second leg at Craven Cottage, but Simon Davies and Zoltan Gera scored the two goals required to take Fulham though.
"To have reached a Europa League final – and I do not care if you are Fulham or one of the top four – is an outstanding achievement. That will be recognised by everyone," said Hodgson.
"Football is an emotional game, so in a semi-final the players could be excused for losing their heads or discipline but they did not do it tonight. "It was a great performance because it would have been so easy for us to lose our heads after the great goal they scored.
"I thought we were good value for our victory and the character of this team has been proved time and time again.
"It's been an amazingly long season yet watching the players run around in the second half it didn't look as though we'd played 59 games this season.
"We're in the final because we've played very, very well throughout and knocked out some very difficult teams, not least Hamburg. It's been a wonderful journey that I'm really proud of."
Striker Bobby Zamora faces a struggle to be fit for the final after an Achilles problem prompted his substitution after 57 minutes.
"The injection we gave him worked quite well but he was beginning to feel the effects in the second half," Hodgson said.
"The problem will exist until he gets more treatment on it. But if I rest him for one or two of the league matches, perhaps he will be fit for the final."
Hamburg coach Ricardo Moniz had no complaints with the result and admitted: "We just didn't do what we needed. We needed to go forward more.
"When we were 1-0 up I told the team to get the ball to the wingers but they couldn't. We lost the game and didn't do well enough and that's that."