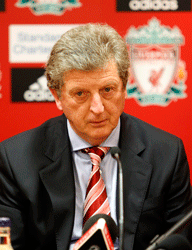 Chelsea are now just 2 points clear after suffering a shock home defeat against Sunderland. See all the Premier League betting odds at Easyodds.com.
Liverpool co-owner John W Henry has insisted that he remains supportive of manager Roy Hodgson.
Despite an upturn in their form in recent weeks, Liverpool's fans were chanting for Kenny Dalglish after a disappointing 2-0 defeat at Stoke over the weekend.
But the club's new American owners insist that they have no intention of parting company with Hodgson – who was only appointed in the summer by the club's previous regime.
"This club can be better and blaming the manager or any one particular player is simply wrong," Henry said.
"This club needs to play up to their potential every match. If they don't, they won't win."
Co-owner Henry also hinted that the club will not be looking to invest heavily in the squad when the transfer market reopens in January.
"We have work to do and must invest in this club to improve it on the field. Can that be successfully done in January?" added Henry.
"A number of people I've talked with doubt it. Most seem to think it will be the summer before we can really begin to improve.
"So all the players have to be on the same page and have to live up to the history and respect this club has engendered.
"The club has gone through a very difficult period and that period has not ended.
"We've dealt with baseball players and racing drivers at the highest level. Liverpool also have players at the highest level and they all want the same things. They want to win."
Henry says he has met with Liverpool's big-name players, after the likes of Jose Reina and Fernando Torres were linked with moves away from the club.
"I've met a number of our players and I've been greatly impressed by them personally.
"The question they have asked, rightfully so, is whether or not the club is going in the right direction. They all want that.
"I have been very forthright about our philosophy and about what we are going to try to achieve."
Henry also reiterated his belief that the club's future lay in the hands of their youth system and said he has instructed Academy technical manager Jose Segura and Under 18 coach Rodolfo Borrell to work hard developing new talent.
"I've been to the academy three times and met them both," he said.
"They are key people for the future of Liverpool. They know their work is now a major priority for us, and I have made a personal commitment to them. We intend giving them the resources to build LFC for the future.
"We need "top four" young players. They will not produce a quick fix, but our philosophy in football will be based on the long term. That is what has made Arsenal and Manchester United so strong. They understand something we understand in Boston – to be consistently strong on the field, you must have a consistent flow of young talent that has been nurtured and developed the right way."
Chelsea are now just 2 points clear after suffering a shock home defeat against Sunderland. See all the Premier League betting odds at Easyodds.com.
A subscription makes the Christmas perfect gift. Give a lasting gift this year and save up to 33% when you subscribe.