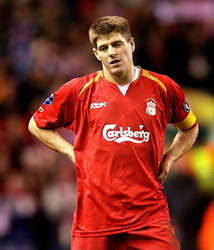 Steven Gerrard lamented Liverpool's failings in attack as their defence of the European Cup ground to a halt against Benfica.
Liverpool suffered a 2-0 defeat on the night to lose 3-0 on aggregate.
The England midfielder recommended extra shooting practice, with Benfica's coach Ronald Koeman suggesting the Liverpool strikers were suffering from a "mental problem".
"It's a massive disappointment to go out," said Gerrard.
"This is the best competition in the game so it's really frustrating. We played well enough and we created enough chances, but we never took them. We were the better team but we didn't put out chances away."
Gerrard admitted the team had been let down by the missed chances.
"I think it's a lack of confidence," he said.
"We'll keep working at it and we'll have some extra shooting practice in training."
Meanwhile, Liverpool coach Rafa Benitez refused to single out his strikers for criticism.
"We started really well but we just couldn't score," Benítez said.
"I'm really, really disappointed because when I looked round the dressing room before the game I saw lots of confidence.
"I could see in the faces of the players that they believed it was possible. We started the game with the tempo needed for winning but we couldn't score. It's not just the strikers."
"We started well, made chances and then made a bad mistake and conceded a goal. After that, the game changed," he added.
"But I will not blame my strikers. Mistakes were made at the back and that is why we lost.
"How do I feel? Very disappointed. I had great confidence in my side and I know how much they wanted the trophy."
"I told them that they had the best fans in the world behind them and they owed them a top-class performance.
"I cannot criticise their effort, and I will not criticise individual players because mistakes were made by the team.
"If you analyse the game you can see the chances we made.
"In the second half we tried to go forward and they played good counter-attacking football.
"We can beat teams but you need to score before them. Now we have two competitions and we need to keep going."
Benfica coach Ronald Koeman felt his side deserved to go through after they survived the opening half hour.
"In the first 30 minutes they played well and we didn't play well," he said.
"They had two or three good chances to score but after that you saw less confidence and after that we scored a fabulous goal.
"In the second half it was easy but you need to be lucky. If you are not you cannot beat a team like Liverpool.
"We can still cause more surprises with big teams but maybe now the rest of the teams will be a bit more attentive of Benfica.
"For us to win 2-0 at Anfield is wonderful. How many times do Liverpool lose in Europe here to a score like that? What we have achieved is remarkable."
Subscribe to World Soccer – The essential football magazine.