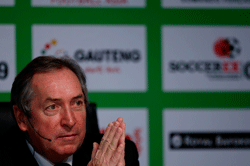 Can Chelsea still win the Premiership? They're into 2nd place and are now a best price 7/1 to retain their title…
Aston Villa manager Gerard Houllier has been admitted to hospital after being taken ill on Wednesday night.
The Frenchman, who has been in charge at Villa Park since September, will remain in hospital for the time being and is hoping to be released soon.
Former Liverpool boss Houllier was forced to undergo life-saving emergency heart surgery in October 2001 after complaining of chest pains at half-time of the Premier League game with Leeds.
When he took the position at Villa Park, Houllier said he had returned to speak to Dr Abbas Rashid, the man who led the team who performed his 11-hour operation, and was given a clean bill of health.
"When you go into a job you know there will be pressure, that it will be hard work and you won't sleep every night," he said at the time.
"You need to make sure your body is ready. I have checked that. I am much healthier and fitter now than I was before."
Villa have been hovering around the relegation zone in recent weeks, although they have won their past two matches and the club said Houllier had their "total support" as he attempts to guide them to Premier League safety.
Speedy recovery
Villa are due to play host to Stoke at home in the Premier League on Saturday and Potters boss Pulis is hoping Houllier makes a full recovery.
"I think everybody in football would wish Gerard a speedy recovery," Pulis told Sky Sports News. "First and foremost we hope he is well and I am sure they will be looking after him.
"I don't know how bad or how serious it is, but I am sure he will get looked after and we all wish him a speedy recovery.
"Gerard was staying in the same hotel that we stayed in on Sunday before the semi-final and we had a chat and he looked really well
"He looked fine, as bright as a button, and it surprised me when someone told me about him."
The former France coach left Liverpool in May 2004 and had a two-year spell in charge of Ligue 1 outfit Lyon from 2005-2007 before taking a role with the French Football Federation prior to his return to English football.
Can Chelsea still win the Premiership? They're into 2nd place and are now a best price 7/1 to retain their title…