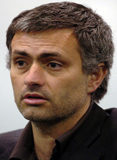 Chelsea boss Jose Mourinho believes his job is the most difficult in football because of the seemingly unlimited transfer funds at his disposal.
Mourinho has spent over £100m since arriving at Stamford Bridge little over a year ago, but he complained: "Buying players for Chelsea is the hardest job in the Premier League.
"We want big players from good teams and they don't want to sell. They ask for crazy money, it's very difficult.
"At a smaller club, I could buy six players for £20m – that's easier."
Mourinho was speaking just days after spending £21m on Manchester City winger Shaun Wright-Phillips for £21m. Moreover, the Premier League champions are still negotiating a multi-million pound deal for Lyon midfielder Michael Essien.
Despite their lavish expenditure courtesy of the largesse of chairman Roman Abramovich, Mourinho insists that it is harder for Chelsea to sign players than for any other club.
"You think it's easy buying a goalkeeper or a central defender or a midfielder?" Mourinho asked.
"Where can I buy the players that are better than what I already have?
"For the big teams it is more difficult to choose players because you might buy a player that doesn't improve you."