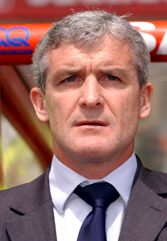 Mark Hughes is the new bookies favourite to take the Newcastle job but who's your money on?
Mark Hughes has refused to rule himself out of contention for Newcastle United's managerial vacancy.
Speaking after Sunday's Premier League win over Bolton, the Blackburn Rovers manager deflected questions about the possibility of succeeding Sam Allardyce.
Asked to end speculation by announcing he would be staying at Blackburn, Hughes: "That's a hypothetical question, and I don't answer hypothetical questions.
"It's not in my hands; it's in the chairman's hands. I'm proud to be Blackburn Rovers' manager but in football you can never say never."
"I have support from the chairman (John Williams) and the board. That is something you do not give up lightly.
"The fact is I have continuity here and a good situation. Things are in place and I am very conscious of that.
"I am not into self-promotion but speculation has surrounded me in the past. But I am still Blackburn manager and have a job to do here.
"In football you need time and I have been given that."
Hughes emerged as the favourite to succeed Allardyce following the decision by Portsmouth manager Harry Redknapp to snub the overtures of Newcastle.
Redknapp held talks with Newcastle chairman Chris Mort but after mulling over the move, decided to stay put.
"It was a terrific opportunity but I had no intentions of wanting to leave," said the Pompey boss.
Mort revealed that Redknapp was one of a number of candidates the club has spoken to, and that they will not be rushed into an appointment.
"In the process of appointing a new manager we have identified and spoken to a number of candidates," said Magpies chairman Chris Mort.
"This is a very important appointment – our first since taking control of the club – and we will take as long as required to make sure we bring in the right person.
"That person will be someone we believe will be able to deliver successful results and performances to accompany that."
Mark Hughes is the new bookies favourite to take the Newcastle job but who's your money on?