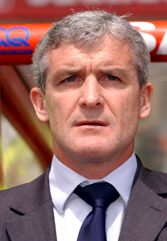 Mark Hughes could be ready quit his position as coach of Wales to become the new Blackburn manager.
Hughes' agent Dennis Roach has revealed that the former Welsh international striker has a release clause in his FAW contract.
"Mark has a contract with Wales, which he totally respects, but it has been his ambition to manage in the Premiership," Roach told the BBC.
"Blackburn would have to go through the right channels but if they wanted to talk to Mark he would be interested."
"Mark had two great years at Ewood Park as a player so Blackburn is a club which is close to his heart and, therefore, this is the kind of job that would interest him."
Last week, Hughes pledged his commitment to Wales' World Cup qualifying campaign. However, there is a possibility that the former Welsh international could combine the two posts.
Blackburn chief executive John Williams hinted their favoured candidate was currently in a job when he told BBC Radio Lancashire: "It's a delicate situation."
Tony Parkes will remain in temporary caretaker charge for Blackburn's match against Portsmouth at Ewood Park.
Parkes said: "They want to do it quickly but they won't panic.
"We need to clear things up as it's all about the players and the sooner we sort it out the better."