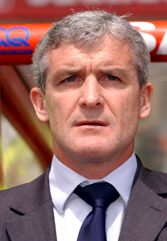 Mark Hughes has agreed to become the manager of Blackburn Rovers.
In the short-term the Wales coach will combine his role at Ewood Park with his duties for the national side. However, Rovers expect him to concentrate solely on his club job thereafter.
Hughes, 40, has a clause in his contract allowing him to move to a Premiership club should an interest be declared.
"The relationship with the Football Association of Wales (FAW) has been fantastic and I'm sure that would be continued," his agent Dennis Roach said yesterday
"If it was agreed, I'm sure it wouldn't be an impossible situation for him to carry on for the last two games.
"Wales don't have any international matches until February which gives them plenty of time to find a replacement if it happens."
"Mark has a contract with Wales which he totally respects.
"However, it has always been his ambition to manage in the Premiership if the right job came along at the right club, and there is a clause in his contract which allows for that should it happen.
"Mark had two great years at Ewood Park so Blackburn is close to his heart. The people at Blackburn would have to go through the right channels with the Welsh Football Association, but if they wanted to talk to Mark then he would be very interested to listen."