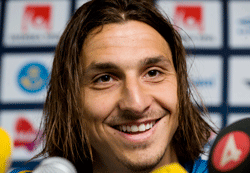 Chelsea are now a best price 11/2 for the Champions League after their 2-0 win over Copenhagen last night…
Milan striker Zlatan Ibrahimovic has directed another dig at former employers Barcelona and also claims the Rossoneri are "more important" than Inter.
Ibrahimovic joined Barcelona in a €70 million transfer from Inter in 2009 but was sent out on loan to Milan after just one season.
The Sweden international blames Barcelona coach Pep Guardiola for his failure to impress at the Camp Nou and has spoken of his frustration at his time in Spain.
"At Barcelona I understood how football and things can change so fast… my problem was one man, the 'philosopher' [Guardiola]," Ibrahimovic told Eurogoals.
"The first six months were excellent. I never had any problems with anyone, there is no one who can say I did something wrong. But then something happened, even I don't know what. I am still waiting for answers."
Ibrahimovic then criticised Guardiola by highlighting the quality of his coach at Inter, Jose Mourinho, under whom he worked during his final season with the Nerazzurri.
"If you don't have someone to motivate you then you don't want to fight, this is why there are coaches," he added.
"I would have killed for Jose Mourinho, for the motivation he gave me and for how he used to stimulate me. With the other [Guardiola] there was football, but a coach must adapt his play to suit the players, especially after spending €70 million on one.
"And if you have bought a player you don't then leave him to watch the birds in the trees."
On his time with Inter, he added: "I can't speak badly of Inter because I spent fantastic moments there, but historically I believe that Milan are a more important club.
"When I arrived here a project was presented to me which wheels around me and I have been promised many things on which the club is working. It's a project that is developing and I believe that next year will be the right year to fight on all fronts."
Chelsea are now a best price 11/2 for the Champions League after their 2-0 win over Copenhagen last night…
Take advantage of the sales by saving up to 36% on a subscription to World Soccer