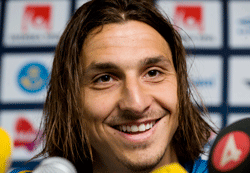 After winning their first two matches it's champions Chelsea who top the Premier League table, betting here.
Barcelona striker Zlatan Ibrahimovic looks set to leave Camp Nou and, according to his agent, he would only be prepared to join three clubs: Milan, Real Madrid and Manchester City.
The arrival of Spain international David Villa has knocked Ibrahimovic down the pecking order at Camp Nou and the Sweden international has also had a reported fall-out with coach Pep Guardiola.
Ibrahimovic's agent, Mino Raiola, alluded to problems when he told El Mundo Deportivo: "He signed with FC Barcelona, not FC Guardiola. He signed him to play but then left him on the bench."
With a move looking increasingly likely, a number of clubs are monitoring his situation, but Raiola claims his client is only interested in a select group of clubs.
"Nothing is settled yet. We will know the situation on September 1," Raiola told Swedish newspaper Expressen. "There are only three clubs that are capable of signing Ibra: AC Milan, Manchester City and Real Madrid. These clubs are the only ones who can afford to sign him, to pay him and attract him.
"Zlatan will be the one who decides whether he leaves and where he will go."
Milan would like to negotiate a long-term loan deal involving Marco Borriello in exchange, but Barca president Sandro Rosell will only accept a sale worth €40 million and Raiola added: "There'll be no loan, unless it's for four years."
Manchester City are also keen on the striker and El Mundo Deportivo reports that Ibrahimovic is still in contact with City boss Roberto Mancini, who managed the striker at Inter.
Ibrahimovic joined Barcelona only last year in a deal that cost Barcelona €46 million and saw striker Samuel Eto'o move in the opposite direction.
With Barca unlikely to sell to Real Madrid, Milan and City appear to be favourites, and Rossoneri vice-president Adriano Galliani has vowed to remain in Catalonia until he can agree a deal. "If it's necessary, I'll stay here even until August 31," he said.
Guardiola has denied any knowledge of the negotiations, but Rosell confirmed talks would take place with Milan over the transfer.
"Ibrahimovic? We'll talk about him with Milan tomorrow," he said.
Milan boss Massimiliano Allegri is hoping to see the deal go through but does not feel it is essential.
"Ibrahimovic is a champion," he said. "There is not a manager around who wouldn't want to coach him, but this is a group of lads and very important champions. It's normal that, if Ibrahimovic were to arrive, a part of the team would be reinforced, but the attack is already strong."
After winning their first two matches it's champions Chelsea who top the Premier League table, betting here.
Make sure you don't miss any of the last news and articles from World Soccer. Subscribe to World Soccer today and take advantage of our all 50th anniversary offer, saving up to 50%!