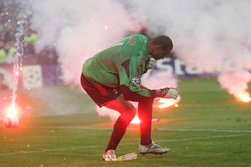 Inter are awaiting their punishment from Uefa's disciplinary committee on Friday after their fans forced the Champions League tie with Milan to be abandoned.
Crowd trouble erupted during the second lef of the tie on Tuesday night, with Inter fans throwing missiles culminating in Milan keeper Dida being struck by a flare.
Referee Markus Merk was forced to take the players off the pitch on 73 minutes with Milan leading 1-0 on the night and winning 3-0 on aggregate.
Uefa is expected to confirm Milan as winners of the abandoned tie.
Inter could be fined or kicked out of the competition due to the trouble.
Uefa spokesman William Gaillard said: "The disciplinary body have the full range of sanctions at their disposal.
"There have been shocking incidents recently but this is the worst."
Gaillard added: "We must make sure it doesn't happen again."
Uefa's disciplinary body will take into account Inter's record over the previous five years before deciding upon an appropriate sanction.
In 2001 the club were ordered to play two European matches away from the San Siro and fined £35,000 after similar crowd trouble at their Uefa Cup tie with Spanish side Alaves.
A verdict is expected this afternoon, although the Italian football authorities have already acted swiftly to crack down on violence in football grounds.
On Wednesday, a statement from Italian Prime Minister Silvio Berlusconi's office, said: "There is a clear risk of even more serious incidents in future, a risk which must be avoided by all possible means."
At a meeting between the Italian interior minister, the ItalianFootball Federation (FIGC) and the Italian Olympic Committee (CONI), it was decided that matches will be abandoned if objects are thrown from the stands.
The team whose fans are to blame will forfeit the game with an automatic 3-0 loss.