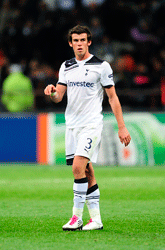 Take advantage of the January sales by saving up to 36% on a subscription to World Soccer
Inter official Ernesto Paolillo has denied a report published in The Guardian suggesting the club are planning to offer £40 million for Tottenham's Gareth Bale in the summer.
The Guardian suggested Inter were willing to pay a record fee for a British player in order to sign Bale, who scored a hat-trick against the Nerazzurri at San Siro this season.
However, the Italian champions wasted little time in dismissing suggestions that Bale was a target.
"It is incorrect," Inter chief executive officer Paolillo told Bloomberg. "It's not true."
Tottenham have repeatedly maintained that they have no interest in selling Bale, who has emerged as a key player in the past 12 months.
Dortmund are a best price 1/4 for the Bundesliga title as they defend their 11 point lead this weekend…