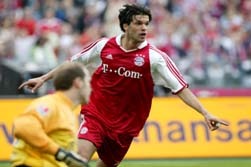 Internazionale have pulled out of the race to sign Michael Ballack, leaving Chelsea the leading contenders to sign the Germany captain, 29, during the summer.
"I have read things in recent days that are not true," said Massimo Moratti, owner of the Italian Serie A side.
"From what I understand, it appears Ballack's requirements are exorbitant and, therefore, we are not interested. This is the end of the Ballack affair."
Meanwhile, Bundesliga leaders Bayern Munich deny that Ballack is certain to leave in the summer, claiming contract renewal talks are "ongoing".
However, club chairman Karl-Heinz Rummenigge believes the player is heading to Chelsea in the summer.
"Inter made their move for Ballack much too late. I'm sure that by now he is joining Chelsea.
"There are little possibilities he'll stay. The reasons are not of an economic nature but in his desire to have new experiences."
Ballack has denied reports that he has already signed a four-year deal with the Jose Mourinho's side.
Manager Felix Magath has previously admitted Bayern are seeking a replacement for the midfielder, saying: "We need to look for a leading figure outside the club.
"When Michael leaves we will lose a personality who takes responsibility."
"We do depend a lot on him but that does not mean we will have problems once he's gone.
"This is a great opportunity to take a new orientation."
Subscribe to World Soccer – The essential football magazine.