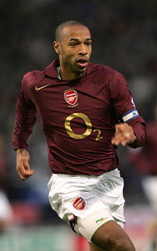 Inter owner Massimo Moratti has confirmed that he is interested in signing Arsenal's Thierry Henry – but admits that Manchester United's out-of-favour striker Ruud van Nistelrooy is a more realistic target.
Henry has yet to agree terms on a new contract, while Van Nistelrooy recently lost his place to Louis Saha at Old Trafford.
Moratti said: "Henry is a player I enjoy watching.
"I think the Frenchman is happy in London and Arsenal are preparing a contract extension for him.
"Hence, they have first choice. It would be a different situation if the player wanted to have another experience elsewhere."
Henry's expires in the summer of 2007 and he has been linked with a move to Barcelona. He recently claimed he would like to stay at Arsenal but it is understood that this is dependent upon Arsenal securing Champions League football next season.
Arsenal are desperate for the Frenchman to sign, but they would prefer to sell him this summer rather than risk losing him on a free transfer in 18 months time.
"His buy-out clause is low?" Morrati said. "We wouldn't take advantage of this as it wouldn't be an honourable move. We don't do this between big clubs."
United insist Van Nistelrooy will not be sold in the summer, but Moratti believes the Dutch forward is keen to leave United.
"The difference between Henry and Van Nistelrooy is I know Van Nistelrooy is not happy in Manchester."
"Van Nistelrooy is a very good forward," Moratti told www.gazzetta.it.
Subscribe to World Soccer – The essential football magazine.