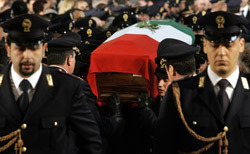 Man Utd maintained their 6 point lead at the top of the Premiership by beating Spurs 4-0. Click here for latest Premiership odds!
The Italian football federation has said football will resume this weekend, but new regulations mean many matches could be be played behind closed doors.
Those stadiums which do not conform to current security regulations will remain after the government approved a set of measures to combat hooliganism.
But the decision to allow fans to watc the games will be determined by the outcome of inspections on Thursday.
Policeman Filippo Raciti died after he was struck by a blunt object during rioting at the derby between Catania and Palermo in last Friday's Serie A match.
Italian Football Federation (FIGC) commissioner Luca Pancalli said he believed it would be a "mistake" not to resume matches.
"It would be a mistake not to take this positive energy that we have collected in the past couple of days, that has allowed us to consider the situation. Now we cannot give in to violent people," he said.
But Deputy Interior Minister Marco Minniti warned that stadiums which did not comply with the regulations would remain shut.
The new measures include a ban on the block sale of tickets to away fans, stadium bans for those involved in violence at grounds and a ban on financial or working relationships between clubs and fan associations.
The minister of sport, Giovanni Melandri also announced an increase in the minimum jail sentence for those who incite violence at football matches from three years to five.
Italian justice minister Clemente Mastella believes that improving security at Italian football grounds is vital in the fight to combat violence.
"We know that this decree may cause some problems to the fans but I am sure they will understand, those who may not understand will be the violent fans," he said.
"There has been a lot of talk in recent days about English football as an example, we can only look at European stadia to see that they are very different from what we have here in Italy."
It is understood that only five stadiums in Italy are currently deemed acceptable in the top two divisions – the Stadio Olimpico in Rome, the Artemio Franchi in Siena, the Stadio Olimpico in Turin, Renzo Barbera in Palermo and Bologna's Renato Dall'Ara.
"It would be better to halt play for another week because playing behind closed doors would be the death of football," Milan captain Paolo Maldini said of the idea of playing matches without the fans.

Man Utd maintained their 6 point lead at the top of the Premiership by beating Spurs 4-0. Click here for latest Premiership odds!