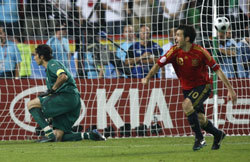 The Qtr-finals of Euro 2008 are underway and we've got all the latest BestPrice odds from the four games. Click here!
Spain are though to the semi-finals of Euro 2008 after beaing Italy 4-2 in a penalty shootout in Vienna.
The two sides had ground out a 0-0 draw over the course of two turgid hours of football, but given that Spain had shown the greater attacking inclination throughout, their win was just about deserved.
Iker Casillas was the hero for Spain, saving two penalties in the shootout to take Spain through to their first semi-final since 1984. This result also broke their June 22nd hoodoo, for it was on this date that they had been knocked out of three previous tournaments after a penalty shootout.
Depicted in advance as a game of chess, the match lived up to its billing and perhaps illustrated why chess has not caught on as a spectator sport. In a largely forgettable encounter, chances were at a premium, with both Casillas and his Italian counterpart Gianluigi Buffon rarely called into action.
Italy, without the suspended Andrea Pirlo, lacked a playmaker, and although their midfield trio of Simone Perrotta, Massimo Ambrosini and Alberto Aquilani were all capable of performing the legwork it was difficult to see where the creativity would come from. With Luca Toni an isolated figure up front, it was hard to escape the conclusion that coach Roberto Donadoni had decided that the best way of winning the game was to avoid losing it.
Spain, to their credit, tried to force the pace but confronted by nine outfield players massed behind the ball, they were always fighting an uphill battle.
With the midfield area congested, Spain were largely reduced to shooting from distance. Long-range efforts from David Villa and Iniesta brought comfortable saves from Gianluigi Buffon, and when David Silva did beat Buffon, the ball sailed inches wide of the post.
At the other end, there was little to concern the Spanish defence. Ambrosini did find Toni with one searching cross, but the ball was headed straight at Carlos Marchena. The tactic of using Toni's aerial prowess against the relatively diminutive Spanish central defence, looked like Italy's best hope of scoring, but unfortunately for the Azurri, the supply to the towering striker was intermittent. Even more regrettably, Toni has played in this tournament as if wearing lead boots.
Spain did have two appeals for a penalty waved away by the referee. The first occurred when David Villa was kicked from behind by Ambrosini, while just before the interval David Silva was upended by Fabio Grosso on the edge of the penalty area only for the referee to ignore the claim.
It was not until the hour mark that either keeper had to make a save worthy of the term. Surprisingly, given the general flow of the play it fell to Italy, when, following a scramble in the Spanish penalty area, the ball fell to substitute Mauro Camoranesi whose shot on the turn was saved by the left foot of Iker Casillas.
At the other end, Buffon produced a sharp save from a Senna free-kick and moments later, the Villarreal midfielder almost embarrassed the Italian keeper when his long-range effort crept under the body of the Juventus stopper, only to roll on to the post.
Italy, looked slightly more attack-minded with the introduction of Antonio Di Natale, but they posed no threat to Casillas and on the one occasion they got men into the box, Toni's attempt at an acrobatic overhead kick merely succeeded in deflecting the ball away from the incoming Grosso.
From early in the second half, extra-time looked inevitable and so it proved. In the additional half hour, Spain continued their somewhat doomed efforts to score, with Silva flashing a shot wide, and on a rare foray forward Italy's Di Natale forced Casillas into action when his header was tipped over the bar.
But, by the end of 120 minutes of largely drab football, neither side was prepared to take the risks required to avert the game being settled by penalties.
Perhaps their 2006 World Cup triumph courtesy of a penalty shootout win over France, convinced Italy that this was their best chance of success. It wasn't to be. Casillas saved efforts by De Rossi and Di Natale, and although Guiza missed for Spain, the tie was settled by Cesc Fabregas, who coolly sent Buffon the wrong way.
Spain will now meet a rapidly-improving Russia side, whom they thrashed 4-1 in their opening group game. It is possible that the previous encounter revealed the best and worst of both sides. Russia are unrecognisable from the side taken apart by David Villa, while Spain must be concerned that they peaked too early. It promises to be an intriguing encounter.
Italy 0-0 Spain (aet)
Penalty shootout
Spain 4 Italy 2
David Villa scored Fabio Grosso scored
Santi Cazorla scored Daniele De Rossi saved
Marcos Senna scored Mauro Camoranesi scored
Daniel Guiza saved Antonio Di Natale saved
Cesc Fabregas scored
Attendance: 51,178
Teams:
Spain: 1-Iker Casillas; 15-Sergio Ramos, 5-Carles Puyol, 4-Carlos Marchena, 11-Joan Capdevila; 19-Marcos Senna; 6-Andres Iniesta (12-Santi Cazorla 59), 8-Xavi (10-Cesc Fabregas 59), 21-David Silva; 7-David Villa, 9-Fernando Torres (17-Daniel Guiza 84)
Italy: 1-Gianluigi Buffon; 19-Gianluca Zambrotta, 2-Christian Panucci, 4-Giorgio Chiellini, 3-Fabio Grosso; 22-Alberto Aquilani (7-Alessandro Del Piero 109), 10-Daniele De Rossi, 13 Massimo Ambrosini; 20-Simone Perrotta (16-Mauro
Camoranesi 58); 18-Antonio Cassano (11-Antonio Di Natale 74), 9-Luca Toni
Referee: Herbert Fandel (Germany)
The Qtr-finals of Euro 2008 are underway and we've got all the latest BestPrice odds from the four games. Click here!