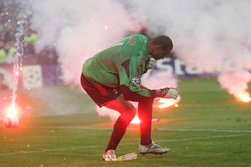 The Italian government has backed zero-tolerance measures designed to halt fan violence at matches.
The new rules, which take effect immediately and follow a violent week off the pitch, state that games will now be abandoned if objects are thrown from the stands. The team whose fans threw the objects will automatically be penalized with a 3-0 loss.
The Interior Ministry announced the measures after meeting with the Italian football federation and the Italian Olympic Committee.
Franco Carraro, president of the soccer federation, said the rules were mainly "preventive."
"The hope is that conditions to put the measures into effect are not created," Carraro said.
"It's indispensable that soccer clubs increase their collaboration with the forces of order, and where possible also have dialogue with the fans."
On Sunday, 17 fans were arrested after fighting with police at league games in which neo-Nazi banners were paraded.
On Tuesday, a Champions League quarter-final match was abandoned when Inter fans threw flares onto the field, hitting Milan goalkeeper Dida on the shoulder.
On Wednesday there was further trouble at the Champions League quarter-final between Juventus and Liverpoo. Vehicles were torched outside the stadium and police also used tear gas to prevent Juventus fans from assaulting Liverpool fans as they entered the stadium.