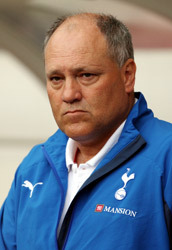 ENGLAND V GERMANY: Who will be the First Goal Scorer? Bent and AJ are 7/1 Click here for more odds.
Tottenham chairman Daniel Levy has told manager Martin Jol that his job is safe for the time being but has informed him that he wants to see Spurs in the Champions League.
Levy said in a statement: "We are an ambitious club and we have discussed our expectations with Martin.
"For that we need our management standards to be of the highest quality so that we can compete with the best.
"Martin has confirmed to me that he feels he is equipped with a squad and a determination to take the challenge."
Jol and his assistant Chris Hughton met with the Spurs' board on Tuesday.
"We had a full and frank conversation," Jol told Tottenham's website. "I fully understand the ambitions of the club – they are the same as the supporters.
"He has put a lot of hard work into this club and with the squad of players we have assembled, it is realistic that we should look to challenge for a top four position and I have assured him and the Board that that is what I shall aim for.
"Yes, it is pressure to deliver, but that is what we managers should expect. Hopefully all the media will relax now – all I shall be concentrating on is each and every game."
Levy made it clear that a repeat of the last two seasons in which Spurs finished fifth, would not be tolerated.
"We want Champions League football," he continued.
"We, the board, owe it to the club and the supporters to constantly assess our position and performance and to ensure that we have the ability to operate and compete at that level.
"We have made a massive investment in the squad and as a result we have the best squad of players this club has had for over 20 years and they are equally hungry for success and silverware."
Pressure on Jol has mounted after Spurs lost their first two matches this season.
Sevilla coach Juande Ramos was thought to be in line to replace him but now looks set to stay in Spain.
However, club president José Maria del Nido managed to persuade the 52-year-old to honour his contract which expires in 2008.
"Juande Ramos will continue at Sevilla until June 2008 at least," said del Nido.
"He has confirmed to me that he is going to fulfil his contract. With this statement, I hope to end once and for all the talk of our coach leaving, because he is not going to leave. He looked me in the eyes and told me so and shook my hand. His professionalism demands that he cannot leave the team in the lurch just three days from the start of the season.
ENGLAND V GERMANY: Who will be the First Goal Scorer? Bent and AJ are 7/1 Click here for more odds.