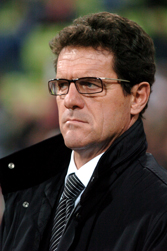 Juventus chief officer Antonio Giraudo has reaffirmed the club's desire to ward off any interest in coach Fabio Capello.
Capello is one of the most successful coaches working in foootball and his stock has risen further since leading Juventus to the verge of a second successive Serie A title.
Real Madrid are in the market for a new coach and president Fernando Martin has already admitted that Capello is on his wish list. Capello himself has also hinted that he would like to coach in England one day, but for the time being he looks set to stay with Juve.
Giraudo claims they have no intention of allowing Capello to leave Turin.
"Losing Capello simply does not exist," Giraudo told La Repubblica. "The plan is that he will stay with us until 2009."
With another title almost in secured, thoughts are already turning to the summer transfer market.
Giraudo has suggested that deals could soon be wrapped up for Parma midfielder Marco Marchionni and Internazionale's Cristiano Zanetti.
"There is no need to sell players," stated Giraudo. "Every choice will be made to benefit Juve.
"The club owners have indicated that there is a clear financial plan.
"The initial steps have been made to sign Marco Marchionni and Cristiano Zanetti."
Juventus suffered a minor blip at the weekend, being held to a disappointing 0-0 draw at Treviso, the league's bottom club. However, the draw actually extended their lead over second-placed Milan who went down 1-0 to lowly Lecce.
Subscribe to World Soccer – The essential football magazine.