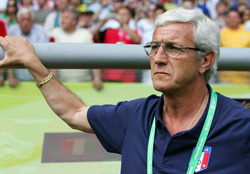 Juventus have issued a plea for Marcello Lippi to return to the club, despite the World Cup winning coach's declaration that he is not ready to return to football.
Juve are looking for a new manager to lead the club in Serie A next season, after Didier Deschamps stepped down despite clinching the Serie B title.
Lippi – who has not worked since leading Italy to World Cup glory last summer – has emerged as an contender for the post, having coached Juventus in two previous spells with the club.
General manager Jean-Claude Blanc has pleaded with Lippi to return to Turin.
"We want Lippi immediately, in whatever role," Blanc told Gazzetta dello Sport. "He just has to tell us what he wants to do."
However, Lippi has again stated that he is not ready to come back to ful-time management, telling Rai TV: "I have already said that I am taking a break for some more months, therefore none of this is true.
"Juventus for me signifies eight stupendous years of great success and satisfaction, therefore it is a word that stays in my heart."