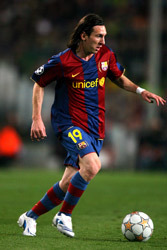 Croatia v England 20:00 Wednesday – Click here for the latest odds!
Kaka has admitted that he would prefer Lionel Messi to win the Ballon d'Or ratehr than bookies favourite, Cristiano Ronaldo.
Ronaldo has been tipped to land the award for European Footballer of the Year after inspiring Manchester United to the Premier League title and Champions League success.
Kaka claimed the prize in 2007 and would prefer Messi to be his successor than Ronaldo.
"Messi is a truly great player," the Milan man told Gazzetta dello Sport.
"Cristiano Ronaldo is also very good and deserves the prize, but I want Leo to be my successor.
"He has incredible ability and can control the ball superbly and that makes him one of the best players in the world.
"I think he is the sort of player that you would always want in your team."
Kaka has vowed to rediscover his very best form after a disappointing 12 months.
He added: "I am only talking about this year. My aim is to recover my form as quickly as possible and to try and win the trophy again in Paris and the Fifa World Player of the Year in Zürich.
"But for that to happen I have to be playing at a consistently good level for Milan."
Kaka is confident of a successful season with Milan after Brazilian compatriot Ronaldinho joined him at the San Siro.
"Without doubt he will be the best signing of the season in the Italian league," he said.
"Our paths in life have been very different, but that does not mean that we cannot be friends
"Above all, it does not mean that we cannot play together either."
Croatia v England 20:00 Wednesday – Click here for the latest odds!