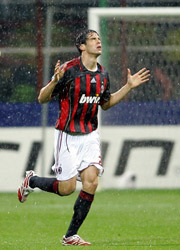 Milan's playmaker Kaka pledged his future to the European champions.
The Brazilian, who was an integral member of Milan's victorious Champions League team last season, is said to be top of Real Madrid president Ramon Calderon's shopping list.
However, Kaka insisted he is very happy at Milan.
"Real Madrid are a fantastic club, but money isn't everything," he told Italian news agency ANSA.
"I have never demanded anything at Milan, I have never asked to renew my contract, to leave or to have a clause to rescind it like many have said.
"There was a meeting with Real Madrid and Milan were the first to know about it.
"I have also learned from friends who have left Milan how they deeply regretted doing so. I want to make history here."
Kaka's current contract with Milan runs until 2011.