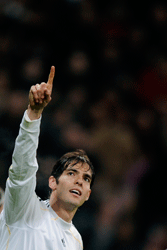 Joe Kiddle has an 80/1 tip for tonight's Champions League game between Barcelona and Arsenal – see what it is here…
Adriano Galliani has admitted Kaka would have to be prepared to take a considerable pay cut if Milan were to have any chance of bringing him back to the San Siro.
The Brazilian enjoyed a successful spell with Milan before leaving to join Real Madrid in the summer of 2009.
His time at Real has been undermined by injuries and there has been speculation that he could be set to return to Italy this summer.
Milan vice-president Galliani believes a deal would be difficult to finalise.
"Kaka's return to Milan? Ricardo earns too much, because in Spain they pay less taxes," Galliani told Rai Due.
"I am sorry that he has problems in Madrid, but to come back to us he would have to drop a lot his salary.
"We can afford the wage of only one (player like) Ibrahimovic."
Galliani also reiterated the club's position on Roma defender Philippe Mexes, who has been linked with a move to Milan.
"Philippe Mexes to AC Milan? He is followed by half of Europe," said Galliani.
"There is not only us after him. But now we're not going to disturb him at this time of the season."
Joe Kiddle has an 80/1 tip for tonight's Champions League game between Barcelona and Arsenal – see what it is here…
Take advantage of the sales by saving up to 36% on a subscription to World Soccer