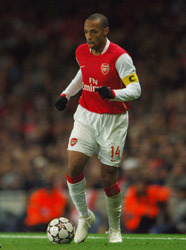 Tomas Rosicky believes Arsenal must keep Thierry Henry if the club wants to ensure a prosperous future.
Henry has again been the subject of transfer speculation, with both Milan-based clubs as well as Spanish outfit Barcelona expressing an interest in signing the French internaational.
But Arsenal midfielder Rosicky insists keeping Henry at Emirates Stadium is crucial if his side are to compete with the for the Premiership title.
"Thierry is a big player for us. He is our captain and we need him," Rosicky told the Daily Star.
"Of course it would be a blow if we lost him.
"I think we can challenge the top teams. We have shown that already by beating them.
"But we have had problems against the smaller teams. I think it is down to stuff we can work on."