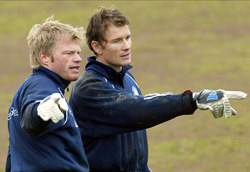 Germany coach Jurgen Klinsmann has told Arsenal's Jens Lehmann that he will be his country's first-choice goalkeeper at this summer's World Cup.
Lehmann has been vying with Oliver Khan for Germany's number one shirt and has now been given the role over his Bayern Munich rival.
The final decision was made on Friday after a meeting between Klinsmann, his assistant Joachim Low, general manager Oliver Bierhoff and goalkeeping coach Andreas Kopke.
"This was the most difficult decision of my time as coach," said Klinsmann. "Of course Oliver is disappointed, but he took it as a real sportsman."
Kahn also hinted that he would be considering his international future in the light of Klinmann's decision.
"I am surprised about this decision and absolutely disappointed," he added.
"I will consider my future with the national team over the next few weeks and announce my decision at an appropriate date.
"I will now, in the coming weeks, fully concentrate on my duties with Bayern Munich."
Lehmann has impressed for Arsenal this season, whilst Kahn has made some elementary mistakes both for Bayern and Germany. Although the Bayern stopper was been named the best player of the 2002 World Cup in Japan and South Korea, his stock has fallen in recent months.
The Arsenal keeper won the first of his 29 international caps back in February 1998, but has played second fiddle to Kahnin recent years.
Explaining the decision, Kopke said: "Both goalkeepers have amazing ability. We are, however, convinced that Jens Lehmann is better suited to the way we like to see the game played."
Bierhoff added: "The goalkeeper question has dominated discussions in the last weeks and the decision was extremely difficult for our coaches. I appeal to everyone to accept the decision and give both the team and Jens Lehmann their full support."
Subscribe to World Soccer – The essential football magazine.