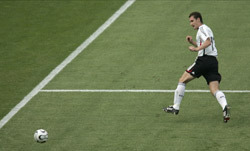 Werder Bremen striker Miroslav Klose has ended speculation about his future plans by announcing he will join Bayern Munich.
Werder announced last month they were reluctant to sell Klose to another German club, but the prolific striker says he will see out his contract with his current club before moving to Bayern on a free transfer in 12 months time.
"The fact is I have decided to play for FC Bayern in 2008," he said after Germany's victory over Slovakia on Wednesday.
"I would prefer for it to happen as quickly as possible and to have everything clear, but if I have to stay one more year in Bremen, then I will still give everything to Werder.
"I would be delighted if I were able to play for Bayern this year."
With Luca Toni also arriving at Bayern competition for places in attack looks set to be fierce.
Franck Ribery, meanwhile, is expected to be confirmed as a Bayern Munich player on Thursday.