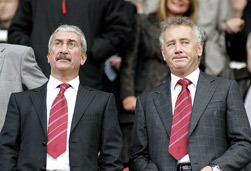 American billionaire Robert Kraft has confirmed holding talks with Liverpool about the possibility of investing in the Premiership club.
Liverpool chief executive Rick Parry revealed last week that he met members of the Kraft family, who own New England Patriots NFL team, to dusciss funding for a proposed new stadium.
Kraft told BBC Radio Five Live: "Liverpool is a great brand and it's something our family respects a lot.
"We're always interested in opportunities and growing, so you never know what can happen."
Liverpool were keen to stress that no deal was imminent.
"I've known them since 2001 and had an invitation to visit the Gillette stadium, one of the USA's few privately-funded stadia," said Parry.
"It gave us a chance to discuss the way they funded the ground's construction.
"Being an international break, it was a convenient time to accept the invitation and it proved an interesting trip.
"It was hardly a secret mission. I attended an NFL match with 80,000 spectators."
Liverpool are still keen on moving to a new stadium, but with the estimated cost of the new development rising from £80m to £150m, it is understood that the cub's board acccepts that new investment is needed if the project is to go ahead.
The Kraft Group bought New England Patriots for £98m in 1994 and also owns Major League Soccer team New England Revolution.
Liverpool have been linked with major investment several times, but they have been unable to reach agreement with any potential suitors.
Subscribe to World Soccer – The essential football magazine