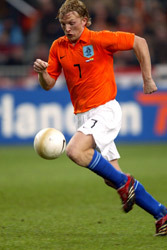 Feyenoord striker Dirk Kuyt has revealed that Liverpool have made a fresh move to bring him to the Premiership.
Kuyt, 25, has been linked with a move to Newcastle, while Liverpool are one of a number of clubs who were linked with a move for him last year.
He was quoted in The Independent as saying: "The Feyenoord president has informed me of a new approach from last year's European champions.
"I am happy at Feyenoord but would like to play in the Premier League."
"Last year that was close to happening so for now I prefer to concentrate only on the World Cup because my hopes could be soured again," he added.
The Dutchman, who has scored 71 goals in 101 games for Feyenoord, has developed into one of Europe's most sought-after strikers in recent seasons.
"It is out of my hands. I have several opportunities but it is now down to Feyenoord," he added.
Last season Tottenham, Liverpool and Everton said they were interested in signing the striker, but all bids were rebuffed by Feyenoord.
Kuyt had been quoted as saying he was interested in a move to Newcastle.
"I would love to play in the North-East," he was quoted as saying in reports this week.
"I love English football. I also think my style of play is completely right for the Premiership. A club like Newcastle would be my dream."
Newcastle manager Glenn Roeder has admitted his interest in the player and plans to watch him during the World Cup.
"He is certainly one of several players we are looking at and I am looking forward to seeing him in Germany," the St James' Park manager told the Evening Chronicle.
"Dirk's a player I like and I have found it interesting what he has had to say over the last few days," said Roeder.
"It doesn't really shock me that he said he wanted to come here, though.
"Any player with the sort of quality he has would surely want to join a club like Newcastle."