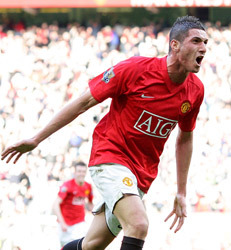 Lazio president Claudio Lotito has called for the Italian FA to make changes to the rules regarding home-grown players to prevent an exodus of youngsters from moving abroad.
Speaking after one of the club's former youngsters, Federico Macheda, marked his Manchester United debut with a stunning last-gasp winner against Aston Villa on Sunday, Lotito believes that new rules need to be introduced to protect the clubs.
The 17-year-old left Lazio in September 2007 after coming through the ranks of the Italian club's youth system and the Lazio president is still unhappy about the transfer.
At present Italian clubs are not allowed to tie youngsters to professional contracts until the age of 18 whereas in England the age is 16.
"We tried in every way to stop Manchester United from taking away our player but the present Italian regulations don't give you any type of defence," he said.
"In reality we find ourselves in front of a proper cattle market. I talked repeatedly with Macheda's parents, we established a dialogue, but it was not possible to do anything.
"We could not compete with United's offer.
"That is not right, we have to be provided with more reliable and concrete rules than those which govern Italian clubs."
For more fascinating features, subscribe and save 30% and use the below link?