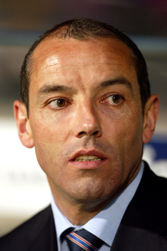 Coach Paul Le Guen will leave Paris St Germain at the end of the season after the Ligue 1 club decided not to renew his contract.
"Paris St Germain today announce their decision not to renew, after almost three years of collaboration, the contract of their coach Paul Le Guen that expires on June 30, 2009," PSG said on its website (www.psg.fr).
Le Guen joined PSG from Scottish Premier League club Rangers in January, 2007.
PSG are fourth in Ligue 1, eight points behind leaders Marseille with four matches left.
They are one point behind third-placed Lyon, who occupy the qualifying spot for a Champions League playoff match.
"The name of his successor will be announced in the coming weeks, and Paul Le Guen will go on with his job until the end of his contract," the club's statement added.
Le Guen started his coaching career in 1998 at Stade Rennes before leading Lyon to four consecutive league titles from 2001-02.
For more fascinating features, subscribe and save 30% and use the below link?