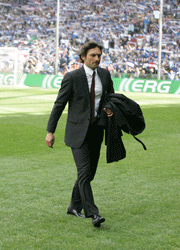 Arsenal are now a best price 6/1 for the Premier League after drawing 0-0 with Blackburn last Saturday…
Inter president Massimo Moratti insists he has faith in coach Leonardo despite Tuesday night's shock 5-2 home defeat by Schalke which all but ended hopes of them defending their Champions League crown.
Tuesday's defeat came on the back of a 3-0 loss to Milan which saw Inter slip five points behind their city rivals in the Serie A standings.
Moratti believes tiredness was a major factor in Tuesday's result but he has confidence in Leonardo's ability and insists the club is backing the Brazilian.
"I can say that Leonardo is an intelligent person who is doing a job that certainly isn't easy, and he makes some intelligent reasoning," Moratti said.
"Football is connected to many things like luck and timing, and this is a moment that can be overcome. We are all very united. Everyone together. This is not a situation that has us scared."
However, Moratti added that had been shocked by events of Tuesday.
"What happened was something unexpected, a lesson," he added. "But in a word, the players are still who they are and so we're going to face this situation just the same.
"Quite often the things that seem impossible become easier, so we'll see if we know how to do what is necessary to turn this into something positive.
"It is not easy, but I believe that everything mainly came down to fatigue. And if that's the case then we have to get ourselves back on track, and with the players we have at our disposal."
Leonardo conceded after the game that it had been a disappointing week.
"It's been a very difficult week, a terrible week," he said. "The game couldn't have started any better. We were playing well. Who could have imagined it would turn out like that? A crushing defeat.
"We paid the full price for a couple of episodes: Schalke had seven shots on target and scored five goals. In the second half, after we'd had our chances, they got two goals which pointed the game in a certain direction. Lots of things went wrong.
"We had used up so much energy getting to this point, closing the gap in the league, where we had no option but to win: that mentality is something instilled within the team."

Arsenal are now a best price 6/1 for the Premier League after drawing 0-0 with Blackburn last Saturday…