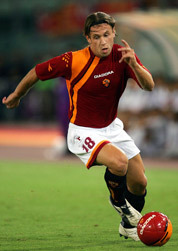 Italy national team coach Marcello Lippi has welcomed the decision of Antonio Cassano to move to Real Madrid.
Cassano's lack of action in recent months has seen the attacker lose his place in Lippi's Italian squad.
Lippi is pleased that Cassano has improved his prospects of playing regularly and has told the striker that he now as an opportunity to secure a place in Italy's World Cup squad.
"I can only tell him 'good luck'," Lippi told Corriere dello Sport.
"I wish him to do the most beautiful thing for a player – that's to say playing.
"For a player, playing and having the sensation to be able to earn the faith of the national team coach is really beautiful.
"Cassano, like all other players, has five months to aim at a place for the World Cup."
Subscribe to World Soccer – The essential football magazine