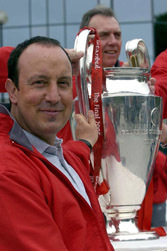 Liverpool manager Rafael Benitez has told his players to forget about last season's Champions League success and focus on beating Real Betis.
The holders face a difficult opening game against in Tuesday's Group G opener and Benitez said: "We must not think about defending our trophy.
"We must only think about winning one game. My only aim is to win here and not to concede a goal.
"I cannot think about another final if we do not start right by winning here.
"We started last season by winning our opening match in the competition against Monaco and I want another win here.
"Since then we have improved the squad in many ways.
"Maybe we still have some of the same problems but generally the squad has been improved and we have more depth.
"And as for playing in Spain, many of my players know the stadium and the atmosphere and know how to handle it.
"For me, the idea is always the same, to prepare well, to plan for the game and to win.
"Betis are a good team, very dangerous but I'm always confident we can come away with the right result."
The former Valencia coach believes his knowledge of Spanish football will give him the edge tonight.
"Usually it is difficult when you have such a short space of time to prepare in between games but in this case it is not too bad because I know about Betis," added Benitez.
"I know their team and their players and so I will be able to give my players a lot of information and a lot of details.
"I haven't analysed all of the groups but I do know that ours is very competitive.
"So we want to make a good start to the competition and that means getting a result in Seville.
"As for the rest of the group, yes we can also beat Chelsea.
"We beat them last season and we showed then that we can beat anyone in the tournament.
"But apart from the group games I do not intend thinking of anything else."