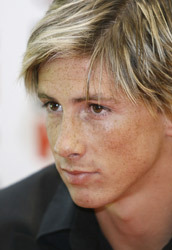 Liverpool have signed Fernando Torres from Atletico Madrid on a six-year deal for a club record fee that could rise to £26.5m.
The 23-year-old passed a medical on Tuesday and returned to Madrid to say farewell to the Atletico supporters.
"The Liverpool offer arrived and I told the club to listen to that offer as that is the team I wanted to play for," said the Spanish international.
"It's one of the best, if not the best, club in Europe."
Torres has been Atletico's leading scorer in each of the last five campaigns, scoring 14 league goals in 36 starts last season.
"It has been a difficult decision to leave my all-time club," he said.
"But it would have been hard for me to reject Liverpool's offer. It is a big leap for me and I think it was the right thing for everyone.
"The time comes in the life of a player that he needs more challenges.
"I have always done what was best for the club, too."
Torres' signing shatters Liverpool's previous highest fee of £14m paid for striker Djibril Cisse three seasons ago.
Liverpool boss Rafael Benitez views the signing of Torres as the final piece in his jigsaw as he looks to mount a sustained challenge on the Premeirship title.
"The fact that Liverpool are giving me the number nine jersey just goes to show the confidence they have placed in me, when considering those who have worn that shirt before me," said Torres.
"A new beautiful adventure begins for me and I hope that with work and effort I can be among the best players.
"This is a unique opportunity for me. Liverpool aspire to everything and that has been an important factor in my decision to go there.
"I want to adapt as quickly as possible. I think Premiership is a football that adapts well to my style.
"I will arrive with a lot of joy and ambition."