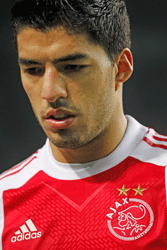 Can QPR get back on track against Coventry on Sunday? Tom 'The Power' Powell gives his top tips…
Liverpool have confirmed their interest in Luis Suarez and Ashley Young, but admit deals are not close to being done.
The club's director of football strategy, Damien Comolli, has confirmed that both players are targets for acting manager Kenny Dalglish.
Liverpool are understood to have been in contact with Ajax regarding the Uruguay striker, but the two sides' valuation of the striker remain some way apart.
"We are looking primarily for an attacking player with pace because the team is short on pace," he told Canal+Sport.
"And as far as Suarez is concerned, at the moment there is no dialogue with Ajax.
"He is one of the players we are interested in. Will he be available in January? This is another story."
Comolli also confirmed their admiration for Young, but admitted it was unlikely the England international would be sold by Aston Villa this month.
"For Young, if he is on the market then we will be interested. But I don't believe that is the case," he added.
Comolli also played down reports that Liverpool was a club in crisis.
"There is no crisis. I can see things from inside and I don't have this feeling. It is all a problem of confidence," he said.
"There were quite a few injured players, players who came back from the World Cup worn out, and this was the main cause of our bad results.
"[Fernando] Torres and [Steven] Gerrard are exactly at the same physical level as they were in the year in which they finished second [in the 2008/09 season]."
Can QPR get back on track against Coventry on Sunday? Tom 'The Power' Powell gives his top tips…
Take advantage of the January sales by saving up to 36% on a subscription to World Soccer