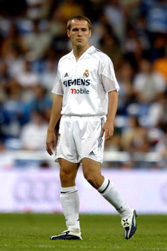 Liverpool chief executive Rick Parry has admitted that the club do want to bring Real Madrid striker Michael Owen back to Anfield.
Although manager Rafael Benitez has played down the speculation linking the England striker with a return to the club after only 12 months.
Newcastle have agreed a club record deal of about £17m, but 25-year-old Owen has admitted that he would prefer a move back to Liverpool.
"It's not a no or a yes – there has been plenty of speculation and we will see next week," said Parry.
Parry admitted he was pleased that Owen has confirmed he would prefer a move to Liverpool, despite Newcastle's efforts to do a deal.
"We are always encouraged when players say they want to join Liverpool," he added.
Parry was quick to play down reports that the move for Owen came from the boardroom rather than the manager.
"I want to stress there has never been a split between us or Rafa about Michael or any other players," he continued.
Liverpool sold Milan Baros to Aston Villa for £6.5m earlier this week,and there have been reports that they will sell Djibril Cisse to accomodate the England striker.
Newcastle had offered a club record £17,m for Owen, but it appears that their efforts are doomed to failure.
"There is not much more we can do. We are waiting to hear from Owen and his adviser," Shepherd explained.
"But it has to happen today or it's not going to happen at all, and we will be speaking to Michael's people."