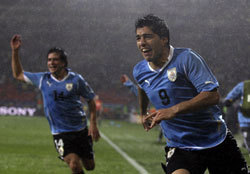 Real Madrid now are a best price 11/4 for La Liga after their surprise 1-1 draw with Almeria on Sunday night
Liverpool are reported to have made a move for Ajax striker Luis Suarez.
Ajax coach Frank de Boer adjmitted that Suarez, 23, has confirmed that he wants to move on if an offer comes in and said that plans for his replacement are already in place.
"I've had a showdown with Luis," De Boer said. "I wanted to know what his plans are and what the future will bring. Luis is training hard. He told me that if a big club comes in for him now he is ready to talk to them.
"I've a back-up scenario ready."
De Telegraaf reported on Monday that Liverpool made contact with Ajax on Saturday night and negotiations continued on Sunday.
Suarez is said to be eager to move to Liverpool due to the number of Spanish-speaking players at the club and recently stressed his desire to compete at the highest level.
"If I move I want to join a real football club where they play good, attacking football," Suarez said in the Sunday Mirror. "I will decline any offer from clubs like Shakhtar Donetsk or [Zenit] St Petersburg where they offer you sacks full of money.
"I've an obsession to win trophies. I am a South American with the mentality to win."
Real Madrid now are a best price 11/4 for La Liga after their surprise 1-1 draw with Almeria on Sunday night
Take advantage of the January sales by saving up to 36% on a subscription to World Soccer